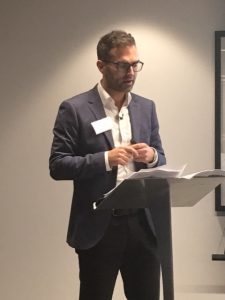 Jay Lockwood (Principal of Logic) was invited by Kubrick Technology Consultants to talk to top businesses in the City of London at an 'Innovation Evening', hosted by Brit Insurance on Level 39 of the 'Cheese Grater' building.  It was an evening of great opportunity and amazing views from one of the most iconic modern London landmark buildings. The need for first rate, innovative, modern educational provision for the benefit of learners and business was the message that Jay Lockwood put forward. Logic Studio School was introduced to the City as providing just such an education. His talk was very well received by a full audience some of whom described themselves as 'potentially cynical' but won over.  There were offers of support for the work of Logic from businesses that could clearly see the benefits for their future growth and workforce requirements. 
It will be exciting to see these businesses developing their partnerships with Logic students and taking up the offer of using the Logic Conference Facilities, hosted by our students.
Thanks to Kubric for organising the evening.